CATECHISM
OF
ECCLESIASTICAL HISTORY
---
AUTHOR OF "Hereditary Depravity," "Close
Communion and Baptists," "History Of
Middle Tennessee Baptists."
---
"The Church Of The Living God, The Pillar and Ground of
Truth," 1 Timothy 3:15.
---
PREPARED BY
ELD. J. H. GRIME
LEBANON, TENNESSEE
FOREWORD
This Catechism of Ecclesiastical History was written by my father, Elder John Harvey Grime, who was for 66 years an active Baptist minister. It was first published in 1905 when my lather was living in Corsicana, Texas, and has been re-published three limes since. Due to a continued demand far the information contained in this booklet, I am offering this, the fifth publication, to the public.
J. HALL GRIME, Lebanon, Tenn.
July 29, 1964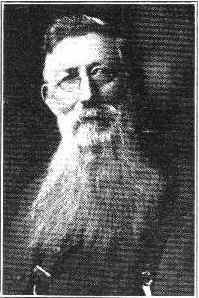 ELDER JOHN HARVEY GRIME
July 29, 1851 — August 8, 1941
CONTENTS
Facts concerning the establishment of the church by Christ and the apostles—Name—Perpetuity—Persecution of Baptists in Europe and America—Early Baptists in America—Baptists in England and Wales
Roman and Greek Catholics—Development of Catholicism Contrasts between Baptists and Catholics
Episcopal Church—Establishment as a State Church
Methodist Episcopal Church—Came out of the Episcopal Church
Presbyterians—Development—Divisions—
Formation of Cumberland Presbyterians
Reformers or Campbellites—
Development and results of the movement
Appendix I.—Baptist doctrine and practice—Baptist principles contrasted with Roman Catholics
Appendix 2.—Origin and founders of religious denominations common to our country
Baptists—Primitive Baptists—Two Seed Baptists—Free Will Baptists—Seventh Day Baptists—Dunkers or German Baptists—Separate Baptists—Christian Baptists—General Baptists—Catholics—Roman Catholics—Greek Catholics—Episcopal—Protestant Episcopa—Reformed Episcopal—Methodists—M. E. Church—M. E. Church. South—Protestant Methodists—Wesleyan Methodists—Calvinistjc Methodists—Presbyterians—Old and New School Presbyterians—Associate Presbyterian Church—Reformed Presbyterians or Covenanters—Cumberland and Presbyterians—Lutheran—Evangelical Lutheran Church—Congregationalists—Disciples or Campbellites—Church of God—Dutch Reformed Church—Christians or Christian Connection—Evangelical Association—Friends or Quakers—German Reformed Church—Shakers—Universalists—United Brethren—United Brethren in Christ—Other Religions—Mormons—Swedenborgians—Mohammedans