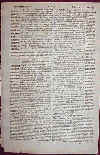 1615 GENEVA BIBLE LEAF

Bible of the Pilgrims and Puritans
This is an origional leaf (page) from The Bible that is The Holy Scriptures, printed by Robert Barker at London England in 1615. Quartro, double columns of Roman Letter English language text with Roman Letter sidenotes. The Geneva-Tomson-Junius version
The final Roman Letter quartro edition of the Geneva Bible to be printed by the King's Official Printer. This widely read translation was the work of reformers who had fled to Geneva to escape persecution in England during the reign of Queen Mary (Bloody Mary), and was highly influential for a hundred years, the textus receptus for the Puritan England. In fierce copetition with the Bishops' Bible (1568) and the later King James Edition (1611).
Scriptures On This Leaf
Revelation 2:22 - 4:11

3:1 And unto the angel of the church in Sardis write; These things saith he that hath the seven Spirits of God, and the seven stars; I know thy works, that thou hast a name that thou livest, and art dead.
3:2 Be watchful, and strengthen the things which remain, that are ready to die: for I have not found thy works perfect before God.
3:3 Remember therefore how thou hast received and heard, and hold fast, and repent. If therefore thou shalt not watch, I will come on thee as a thief, and thou shalt not know what hour I will come upon thee.