History of the Churches of the Pittsburgh Baptist Association
by William Pankey
BETH EDEN BAPTIST CHURCH PITTSBURGH, ORGANIZED 1867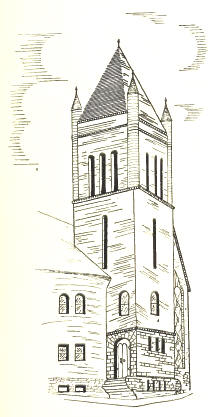 Religious services for Baptists residing in the lower Manchester and Woods Run districts were conducted for some time in the homes of the people. In 1867 the Rev. A. K. Bell and three members of the Sandusky Street Baptist Church were instrumental in starting a Baptist church on Nixon Street.
The corner-stone of the new Beth Eden church—located on the corner of Chateau and Juniata Streets—was laid May 16, 1903. The first service was conducted in the basement the following Thanksgiving Day. The dedicatory services were held May 8, 1904. The mortgage was burned in 1910.
Twenty-eight members were dismissed in 1892 for the purpose of organizing the Emmanuel Baptist Church, Pittsburgh. Again, in 1898, the church dismissed others who became charter members of the Bellevue Baptist church. The present membership is 105.
The following ministers have served the church:
Rev. A. a. Kirk (1867-1869), Rev. J. Perry Hall (1870-1871), Rev. George Bowman (1872-1881), Rev. I.C. Tuttle (1882-1884), Rev. John Brooks (1885-1889), Rev. J. S. Hutson (1890-1906), Rev. A. A. Hobson (1906-1910), Rev. J. E. Darby (1911-1918), Rev. E. W. Rumsey (1918-1923), Rev. H. E. Hatchman (1923-1930), Rev. R. G. Taylor (1933- 1935). The Beth Eden church has not had a regular pastor since 1935.
| | | |
| --- | --- | --- |
| Home History History of the Churches of the Pittsburgh Baptist Association Contents | Share This Page Using: | |