History of the Churches of the Pittsburgh Baptist Association
by William Pankey
BIG SEWICKLEY BAPTIST CHURCH NEW STANTON, ORGANIZED 1839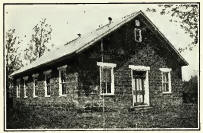 Nineteen members of the Mount Pleasant Baptist Church were dismissed by letter, April 14, 1839, for the purpose of organizing the Big Sewickley Baptist Church, New Stanton. A copy of the original Church Covenant is still retained in the church records. Each of these nineteen charter members signed the Covenant individually. Any member refusing to abide by the requirements of the Covenant was to be forthwith disciplined by the congregation. The church entertained the Pittsburgh Association in 1844.
The Old Stone Church, now known as the Big Sewickley Baptist Church, was erected and dedicated in 1844. For the next forty years it carried on an aggressive program. Eventually the membership dwindled, due somewhat to shifting currents of population, and the church became inactive. On October 18, 1902, it was re-organized through the efforts of a small group of loyal Baptists of the community. The re-organization meeting was presided over by Rev. William W. West, while Lewis C. Walkinshaw, of Greensburg, acted as clerk. The present membership is fifty.
The following ministers have served the church:
Elder Simon Siegfried (1842-1843), Elder A. J. Eberhart (1844-1847), Elder H. D. Kline, Rev. L. G. Moreland, Rev. Richard Sutton, Rev. Job Bosswell, Rev. H. Knox, Rev. J. Wood, Rev. Elijah Bailey, Rev. A. J. Bassford. Rev. William J. Coulston, Rev. A. J. Meek, Rev. William W. West, Rev. David A. Solly, Rev. Henry J. Whalen, Rev. George Downing, Rev. S. Smith, Rev. George W. Bailey, Rev. Noah Pehl, Rev. C. C. Collins, Rev. A. J. Mclndoe, Rev. J. Hartman, Rev. Lawrence R. Neff, Rev. Thomas F.Wright, Rev. M. T. Hulihan (1936 ).
| | | |
| --- | --- | --- |
| Home History History of the Churches of the Pittsburgh Baptist Association Contents | Share This Page Using: | |