History of the Churches of the Pittsburgh Baptist Association
by William Pankey
BROAD STREET BAPTIST CHURCH WASHINGTON, ORGANIZED 1902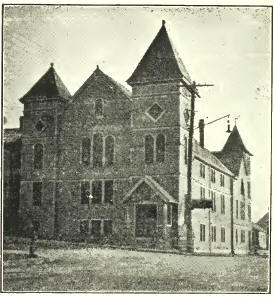 The Broad Street Baptist Church of Washington is situated in the western section of the city, and was organized to meet the needs of the rapidly increasing population there. Rev. Stephen Drummond, pastor of the Washington First Baptist Church, was the first to realize the need of religious work in this new center of population. He immediately told some of the members of his congregation of his vision and enthusiasm.
Under the leadership of I.J. Dickison, a Sunday school was soon organized in Murray Hall, Ewing Street and Baird Avenue. The work grew so rapidly that larger quarters were soon needed. A lot on the corner of Broad Street and McCarrell Avenue was purchased by Mr. and Mrs. M. C. Treat, and a chapel erected thereon.
In May, 1902, the church was organized and officially recognized by the Pittsburgh Baptist Association. The membership grew rapidly. The present church edifice with its splendid Sunday school equipment bears testimony to the evangelistic zeal of the congregation. A parsonage has also been erected in recent years. The present membership is 413.
The following ministers have served the church:
Rev. S. L. Parcell (1902-1925), Rev. A. M. Gibson (1925-1928), Rev. Arthur D. Smalley (1928 ).
| | | |
| --- | --- | --- |
| Home History History of the Churches of the Pittsburgh Baptist Association Contents | Share This Page Using: | |