History of the Churches of the Pittsburgh Baptist Association
by William Pankey
CALVARY BAPTIST CHURCH BRACKENRIDGE, ORGANIZED 1922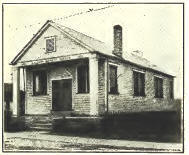 The Calvary Baptist Church, Brackenridge, was organized February 2, 1922. The first services were conducted in the Tarentum Y. M. C. A. auditorium. Later the congregation moved to the Palace Theatre, Tarentum. At a still later date the services were held in the rooms of the Tarentum Chamber of Commerce. Then the congregation moved to the Tarentum Christian church. Since May 8, 1928, services have been conducted in the present chapel on Ninth Avenue, Brackenridge.
The following ministers have served the church:
Rev. H. W. Birch (1922-1930), Rev. G. Blair Hemans (1931-1933), Rev. L. S. Hoyle (1935). The present membership is 148.
| | | |
| --- | --- | --- |
| Home History History of the Churches of the Pittsburgh Baptist Association Contents | Share This Page Using: | |