History of the Churches of the Pittsburgh Baptist Association
by William Pankey
CHATHAM STREET WELSH BAPTIST CHURCH, PITTSBURGH, ORGANIZED 1834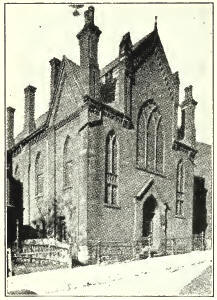 The Chatham Street Welsh Baptist Church, Pittsburgh, was organized in 1834. The first structure was a wooden chapel, erected in 1839. The present brick and stone building was erected in 1881. The membership is now small.
The property of the church has been acquired within recent years by the First Pittsburgh Church, and is to be held perpetually for religious use. The First Church likewise sustains the Chatham Street Welsh Baptist Church financially.
The following have been the ministers:
Rev. William Owens (1834-1874), Rev. Rhoslyn Davies (1874-1894), Rev. R. C. Morgan (1895-1915). The present pastor is Rev. Griff Thomas.
| | | |
| --- | --- | --- |
| Home History History of the Churches of the Pittsburgh Baptist Association Contents | Share This Page Using: | |