History of the Churches of the Pittsburgh Baptist Association
by William Pankey
COBDEN STREET BAPTIST CHURCH PITTSBURGH, ORGANIZED 1913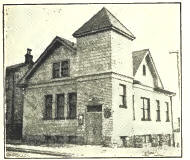 The Cobden Street Baptist Church, Pittsburgh, started as a mission of the Union Baptist Church, South Side, Pittsburgh. For several years prior to the organization of the church (January 1, 1913), a Sunday school was conducted by members of the Union church residing in the Cobden Street Hill section of the city.
The ministers who have served the church are as follows:
Rev. J. M. Lloyd (1913), Rev. W. J. John (1913-1915), Rev. George Kirshner (1915-1916), Rev. J. H. Langdon (1917-1918), Rev. T. W. Henry (1919- 1925), Rev. Frank Kelly (1925-1927), Rev. R. E. Williams (1928-1932), and, since 1935, Rev. W. J. Clawson.
J. N. Tate, a member of the congregation, has rendered much service in keeping the doors of the church open during those periods when the church was without a pastor. Within the past several years the church has been redecorated, a new furnace has been installed, new hymnals have been purchased, a new carpet laid, and many general repairs made. The present membership is seventy-seven.
| | | |
| --- | --- | --- |
| Home History History of the Churches of the Pittsburgh Baptist Association Contents | Share This Page Using: | |