History of the Churches of the Pittsburgh Baptist Association
by William Pankey
EAST END BAPTIST CHURCH PITTSBURGH, ORGANIZED 1886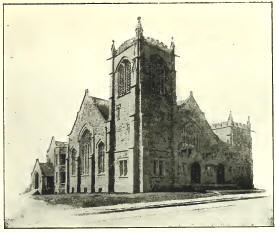 This church was originally organized September 19, 1886, as the Shady Avenue Baptist Church, with 119 charter members. Many of these members had previously been affiliated with the disbanded Penn Avenue Baptist Church. The first public services were held in Wilson's Hall, on Frankstown Avenue—while awaiting the construction of the new edifice on Shady Avenue. In 1933 the church building formerly occupied by the Second United Presbyterian Church, Stanton and Negley Avenues, was purchased, and the congregation forthwith moved to this new location. The church took the new name of "The East End Baptist Church" at the time it moved into the present building. Four of the original charter members are still affiliated with the church. The present membership is 350.
The following ministers have served the church:
Rev. E. D. Hammond (1886-1890), Rev. W. A. Stanton (1890-1912), Rev. J. E. Norcross (1912- 1916), Rev. A. D. Hilton (1916-1919), Rev. R. N. Jessup (1920-1928), Rev. E. B. Hully (1928-1929), Rev. R. G. Pierson (1929 ).
| | | |
| --- | --- | --- |
| Home History History of the Churches of the Pittsburgh Baptist Association Contents | Share This Page Using: | |