History of the Churches of the Pittsburgh Baptist Association
by William Pankey
EMMANUEL BAPTIST CHURCH, DONORA, ORGANIZED 1911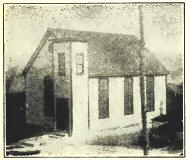 Rev. H. H. Hallowell, pastor of the Monessen Baptist Church, conducted the first Baptist services in Donora in February, 1903. By the following year approximately fifty persons became sufficiently interested to organize a Baptist church—August 14, 1904. The group met in a grove of oak trees for the organization meeting. After several years the church went the way of all disbanded churches.
In 1911 through the efforts of Rev. H. C. Gleiss, services were resumed in a local hall. During the summer months a tent was erected and services were conducted by a theological student. John Lake also conducted a Vacation Church School. In a short while there was sufficient interest to reorganize the church, with thirty charter members.
The church became a member of the Pittsburgh Baptist Association, April 8, 1912. A lot was purchased and a chapel erected, in 1915. The present membership is 114.
The following ministers have served the church:
Rev. W. G. Carl, Rev. E. G. Stanley, Rev. S. J. Cunnings, Rev. L. A. Scheming, Rev, J. C. Longanecker, Rev. S. M. Smith, Rev. F. W. Rawlings, Rev. Charles A. Embrey, Rev. John A. Erbe.
| | | |
| --- | --- | --- |
| Home History History of the Churches of the Pittsburgh Baptist Association Contents | Share This Page Using: | |