History of the Churches of the Pittsburgh Baptist Association
by William Pankey
EMMANUEL BAPTIST CHURCH PITTSBURGH, ORGANIZED 1892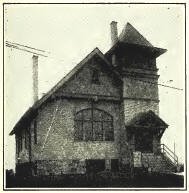 In 1886 a Bible school was started in Shipman 's Hall by thirteen members of the Nixon Street Baptist Church—now the Beth Eden—and the Fourth Avenue church. The school was called the "Woods Run Baptist Mission." In 1888 the first church building was erected—and dedicated free of debt.
On July 6, 1892, the Emmanuel Church was organized by twenty-five members, who were dismissed by letter from the Nixon Street Baptist Church of Pittsburgh. They were: Gertrude Berkhardt, Lizzie Cochrane, Sarah Cochrane, Deborah Cadugan, Arthur Davis, Charles Davis, David Hargest, M. A. Hargest, Lottie Harris, Thomas Jenkins, Annie Jenkins, Sadie Jenkins, Edward Jones, Sarah Jones, Mabel McClelland, Annie McClelland, Maggie McClelland, J. F. McClelland, William Nichols, John Powell, Ruth Powell, E. E. Reed, William Williams, Carrie Williams, Elizabeth Williams. The church was recognized by the Pittsburgh Baptist Association in 1893. Two years later lots were presented by F. J. Torrance and a brick building erected and dedicated.
The church was chartered in 1894. The present church edifice on Davis Avenue was dedicated December 13, 1914; the old building on Petrel Street having been sold to the Slovak Congregational church. The present membership is 152.
The following ministers have served the church:
Rev. J. M. Ray (1892-1893), Rev. Hugh Hughes (1894-1902), Rev. J. N. Williams (1902-1906), Rev. Thomas Sherbondy (1906-1909), Rev. J. Leonard (1909), Rev. John Sherman (1910-1912), Rev. Charles Fitzwilliam (1913), Rev. P. F. DeLancy (1914), Rev. S. M. Smith (1914-1917), Rev. L. B. Stivers (1918-1919), Rev. J. A. T. Marsteller (1919- 1924), Rev. L. B. Stivers (1924-1926), Rev. B. A. Wilson (1926-1929), Rev. A. B. Whiting (1930- 1935), Rev. Lester I. Snyder (1936 ).
| | | |
| --- | --- | --- |
| Home History History of the Churches of the Pittsburgh Baptist Association Contents | Share This Page Using: | |