History of the Churches of the Pittsburgh Baptist Association
by William Pankey
FIRST BAPTIST CHURCH AND PARSONAGE, CANONSBURG, ORGANIZED 1906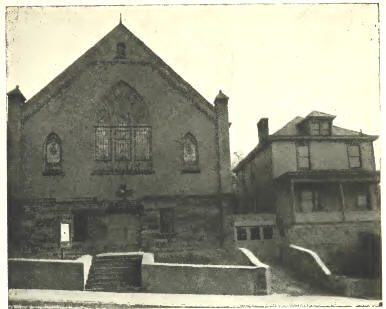 The First Baptist church of Canonsburg was organized in a hall over a livery stable in Canonsburg, February 18, 1906. Some weeks later the congregation moved to a lodge hall in the Gowern building. The church grew numerically and spiritually. The corner-stone of the present church edifice—located on Jefferson Avenue—was laid June 2, 1907, the pastor of the Allison Avenue Baptist church, Washington, presiding.
The following members of the church are now serving as missionaries on the foreign field: Rev. and Mrs. Newberry Cox, Rev. and Mrs. Harry Stam, Mrs. Bessie Ekstrom and Miss Mildred Cushnie. The present membership is 258.
The following ministers have served the church:
Rev. W. M. Courson (1906-1908), Rev. David Morris (1908-1910), Rev. Herbert F. Loomis (1910-1913), Rev. H. P. Wise (1913-1915), Rev. William J. John (1915-1922), Rev. J. P. Tampt (1922-1923), Rev. John W. Parker (1924-1926), Rev. Newberry Cox (1926-1928), Rev. L. S. Erb (1929-1939).
| | | |
| --- | --- | --- |
| Home History History of the Churches of the Pittsburgh Baptist Association Contents | Share This Page Using: | |