History of the Churches of the Pittsburgh Baptist Association
by William Pankey
FIRST BAPTIST CHURCH, CORAOPOLIS, ORGANIZED 1899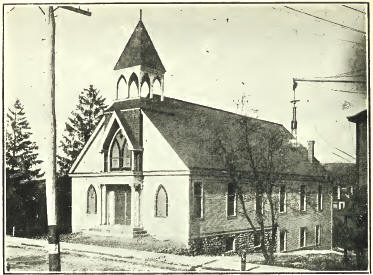 The First Baptist Church of Coraopolis grew out of religious services conducted by the Rev, W. H. McKimiey in 1897 at the I.O.O.F. Hall on Sunday afternoons. A Sunday school was started in 1898. In the summer of 1899 the Rev. George T. Gibson conducted tent meetings under the auspices of the Pittsburgh Baptist Association. The church was officially organized in September of that year.
The first services were held in the Presbyterian church; then in the school house, until 1901. Nine persons constituted the list of charter members. The church edifice was erected in 1903. At the present time it is valued at |18,000. The active membership is now 210.
The following ministers have served the church:
Rev. F. Lewis Brooks (1900-1901), Rev. George M. Owen (1902-1907), Rev. D. Percy French (1908-1911), Rev. Franklin I. Sigmund (1911-1912), Rev. Albert J. R. Schumaker (1912-1914), Rev. Berton A. Fisher (1914-1917), Rev. George N. Harward (1917-1918), Rev. Albert J. R. Schumaker (1919- 1920), Rev. Daniel M. Lenox (1920-1923), Rev. Floyd H. Andrus (1924-1927), Rev. Benjamin F. Lloyd (1928-1931), Rev. James S. Stone (1931- 1936), Rev. John W. Himes (1936- ).
| | | |
| --- | --- | --- |
| Home History History of the Churches of the Pittsburgh Baptist Association Contents | Share This Page Using: | |