History of the Churches of the Pittsburgh Baptist Association
by William Pankey
FIRST BAPTIST CHURCH, DUQUESNE, ORGANIZED 1889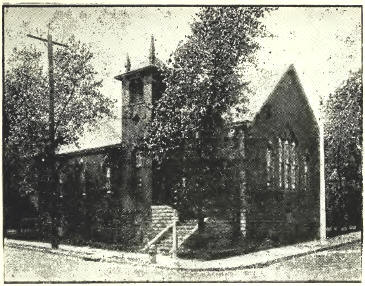 The First Baptist Church of Duquesne was organized in Conlin's Hall, Duquesne, March 17, 1889. T. H. Chapman presided as moderator and John R. Davies served as clerk. The eleven charter members were: John R. Davies, James McGilchrist, S. A. Bennett, Anne Bennett, A. G. Howells, Jane McGilchrist, William Bennett, Elizabeth Bennett, Marie Bennett, Mrs. M. Capen and T. H. Chapman.
The church received its charter in 1890. The first collection amounted to one dollar and seventy-five cents. The first deacons were, John R. Davies, James McGilchrist and Charles Beddow. The church was received into the Pittsburgh Baptist Association May 22, 1898. The church edifice was erected in 1891, and the parsonage in 1896. The present membership is 126.
The following ministers have served the church:
Rev. Alfred Turner (1890-1891), Rev. W. S. Wood (1892), Rev. G. F. Mainwaring (1893-1894), Rev. C. A. Wilson (1895, Rev. J. K. Kramer (1895-1901), Rev. C. A. McFall (1901-1902), Rev. E. L. McKeever (1902-1905), Rev. E. C. Schumaker (1905-1908), Rev. Thomas Grifftth (1908-1912), Rev. Charles L. Hunter (1912-1913), Rev. John A. Erbe (1914-1919), Rev. W. W. Bacon (1919-1927), Rev. Frank A. Kelly (1927-1929), Rev. Henry W. Birch (1929-1934), Rev. George F. Hambleton (1934 ).
| | | |
| --- | --- | --- |
| Home History History of the Churches of the Pittsburgh Baptist Association Contents | Share This Page Using: | |