History of the Churches of the Pittsburgh Baptist Association
by William Pankey
FIRST BAPTIST CHURCH, FORD CITY, ORGANIZED 1892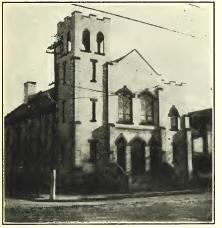 The First Baptist Church of Ford City is the outgrowth of a Sunday school that was conducted in a private home. It was organized with twelve charter members, in 1892. The first public services were held in a large hall over the office of the Pittsburgh Plate Glass Company. When this building was destroyed by fire the early records of the congregation were likewise burned. Subsequently services were conducted in the Farmer's Building and in the Knights of Pythias Hall. Prior to the erection of the present church edifice, in 1911, the congregation met for a while in the Ford City Episcopal church.
The church mortgage was paid off in 1916. Since that date many improvements have been made on the property. The present membership is 322.
The following ministers have served the church:
Rev. John Owens (1892), Rev. I. W. Schumaker, Rev. Frank Schumaker, Rev. John Higby, Rev. Frank Thomas (1904-1909), Rev. C. A. Wilson (1909-1911), Rev. Thomas A. Lloyd (1911-1914), Rev. A. B. Bowser (1915-1923), Rev. R. Hammel (1924-1928), Rev. Melvin Crump (192-9-1930), Rev. M. R. Sheldon (1930 ).
| | | |
| --- | --- | --- |
| Home History History of the Churches of the Pittsburgh Baptist Association Contents | Share This Page Using: | |