History of the Churches of the Pittsburgh Baptist Association
by William Pankey
FIRST BAPTIST CHURCH, GREENSBURG, ORGANIZED 1873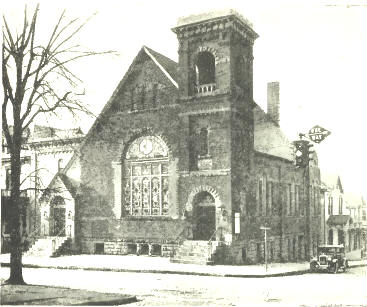 The First Baptist church, Greensburg, was organized April 5, 1873, the majority of its charter members coming by letter from the Big Sewickley Baptist Church, six miles south of Greensburg. The church was the direct outgrowth of a Bible school, organized in 1863. The formal organization of the congregation took place in Park's Hall, Hamilton and West Otterman Streets, Ludwick Borough—now the Sixth Ward of the city of Greensburg.
The first edifice was a wooden chapel, which was occupied from 1874 to 1892. The present brick edifice. Third Street and Pennsylvania Avenue, was erected and dedicated in 1896. It was remodeled in 1929. Since 1873, the congregation has grown from a constituent membership of twenty-five to its present membership of 566.
The following persons have gone out from the Greensburg church into definite Christian service: Rev. Frank W. Crawford, Rev. W. A. Wissinger, Dr. J. R. Bailey, Rev. H. S. Bickel, Mrs. Anna McClure Bailey, Mrs. Lena Tillmann Case, Rev. Harry White and Rev. M. T. Hulihan.
The following pastors have served the church:
Rev. R. C. Morgan (1873), Rev. O. P. Hargrave (1874-1892), Rev. A. J. Meek (1892-1899), Rev. William J. Coulston (1900-1904), Rev. William Ward West (1904-1911), Rev. David A. Solly (1911- 1915), Rev. Henry J. Whalen (1916-1927), Rev. Roger H. Williams (1927 ).
| | | |
| --- | --- | --- |
| Home History History of the Churches of the Pittsburgh Baptist Association Contents | Share This Page Using: | |