History of the Churches of the Pittsburgh Baptist Association
by William Pankey
FIRST BAPTIST CHURCH, HOMESTEAD, ORGANIZED 1884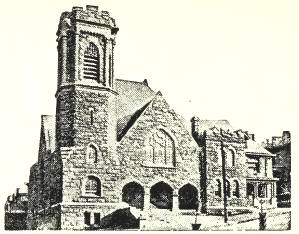 The First Baptist Church of Homestead started as a mission in McClure Hall, Homestead, in 1879. The actual organization of the church took place February 16, 1884, with eleven charter members; as follows : John D. Miller, Mrs. Martha A. Miller, Edwin Rowe, Mrs. Catherine Rowe, W. S. Bullock, Mrs. Mary E. Bullock, Mrs. May E. Edwards, Evan Edwards, Miss Susie Bullock, Mrs. Mary Jones and William J. Roberts.
The first church edifice, located on the corner of Fourth Avenue and Amity Street, Homestead, was dedicated December 19, 1887. The present edifice, F641 located on the corner of Ninth Avenue and McClure Street, was dedicated June 1, 1908. The former church building was sold to the newly organized Hungarian Baptist church. The present membership is 640.
The following ministers have served the church:
Rev. F. R. Scully (1884-1887), Rev. Daniel S. Mulhern (1887-1890), Rev. H. J. Hamilton (1890-1891), Rev. W. T. Gallaway (1891-1895), Rev. William Quay Rosselle (1895-1903), Rev. H. Walker Vincent (1903-1910), Rev. A. F. Williamson (1910-1915), Rev. N. R. McDonald (1916-1918), Rev. C. E. Hemans (1919-1922), Rev. Charles E. Griffin (1922-1926), Rev. H. E. Shade (1926-1937), Rev. Richard I. Porter (1938 ).
| | | |
| --- | --- | --- |
| Home History History of the Churches of the Pittsburgh Baptist Association Contents | Share This Page Using: | |