History of the Churches of the Pittsburgh Baptist Association
by William Pankey
FIRST BAPTIST CHURCH McKEES ROCKS, ORGANIZED 1902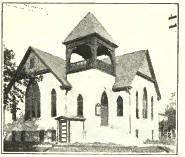 The First Baptist church of McKees Rocks was organized with twenty charter members in Fraternal Hall, McKees Rocks, October 5, 1902. For a while services were conducted in the homes of the members. In 1905 the congregation moved to the old building of the Methodist church. Two years later the flood waters from the Ohio river damaged the building to such an extent that it had to be vacated. In 1909 the congregation conducted services in a large store room in West Park. The present church edifice was erected in 1911. The membership is now 200.
The following ministers have served the church:
Rev. W. E. Prichard (1902-1903), Rev. W. E. Lowe (1903), Rev. E. L. Scott (1903), Rev. W. A. Rupert (1904), Rev. A. J. King (1906-1907), Rev. E. T. Haddock (1907-1909), Rev. I. C. Taylor (1909- 1914), Rev. J. Alexander Clyde (1914 ).
| | | |
| --- | --- | --- |
| Home History History of the Churches of the Pittsburgh Baptist Association Contents | Share This Page Using: | |