History of the Churches of the Pittsburgh Baptist Association
by William Pankey
FIRST BAPTIST CHURCH, ROCHESTER, ORGANIZED 1874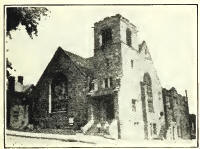 Ten persons met for prayer in the home of W. S. Shallenberger, August 3, 1873. This resulted in the organization of a Bible school the following month in Conway 's Hall, with Mr. H. C. Fry as superintendent and W. S. Shallenberger as teacher. Two months later the Bible school was removed to the Town Hall. On February 4, 1874, a group of twenty-seven persons met at the Town Hall and voted to organize themselves into the First Baptist Church of Rochester. At a business meeting two months later, the first church officers were elected.
The church became a member of the Pittsburgh Baptist Association, June 10, 1874. At that time it had a membership of sixty-nine. The first church edifice was erected in 1875, on the corner of Vermont Avenue and Adams Street, the plot of ground having been donated by Gilbert Pendleton, Sr. The Sunday school unit of the building was constructed in 1913. The present church edifice was dedicated May 6, 1917. The fiftieth anniversary was celebrated in 1924. The present membership is 565.
Four members of the congregation have entered Christian service: Norman J. Mecklem, Elizabeth Rose Smith (now Mrs. Chester S. Bamsey), Genevieve Adamson and Wilbur Traylor.
The following ministers have served the church:
Rev. J. A. Snodgrass (1874-1877), Rev. A. J. Bonsall (1878-1904), Rev. A. J. Irey (1905-1909), Rev. A. E. Finn (1909-1918), Rev. Robert I. Wilson (1918-1924), Rev. William F. Bostick (1925-1929), Rev. Custer C. Rich (1929-1933), Rev. Alpha M. Finch (1934 ).
| | | |
| --- | --- | --- |
| Home History History of the Churches of the Pittsburgh Baptist Association Contents | Share This Page Using: | |