History of the Churches of the Pittsburgh Baptist Association
by William Pankey
FIRST BAPTIST CHURCH, SWISSVALE, ORGANIZED 1904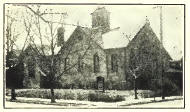 The First Baptist Church of Swissvale was organized by a small group of Baptists in the public hall of the Swissvale Bank, May 29, 1904, through the tireless efforts of the Rev. George T. Street. The church was admitted to membership in the Pittsburgh Baptist Association, January 23, 1905. The congregation moved to Berkley's Hall in 1907, and not being financially able to support a pastor, the congregation secured the services of the pastor of the Bethel Baptist Church, Carrick, on a part-time basis. In 1909 the congregation purchased the building formerly occupied by the Presbyterian church, Schoyer and Miriam Streets. The brick parsonage was erected in 1916. The present membership is 103.
The following ministers have served the church:
Rev. George T. Street (1905-1908), Rev. L. P. Valentine (1908-1912), Rev. John S. Brownlee (1912-1915), Rev. H. Miles (1915-1916), Rev. M. 114 Yahn (1916-1917), Rev. W. W. West (1917-1920), Rev. Norman J. Mecklem (1920-1929), Rev. Charles F. Ransbottom (1932-1938). At the time this history is published the church is without a pastor.
| | | |
| --- | --- | --- |
| Home History History of the Churches of the Pittsburgh Baptist Association Contents | Share This Page Using: | |