History of the Churches of the Pittsburgh Baptist Association
by William Pankey
FIRST BAPTIST CHURCH, TURTLE CREEK, ORGANIZED 1895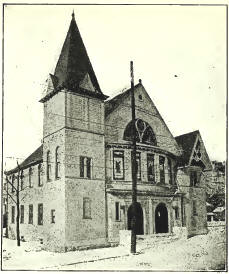 The First Baptist Church of Turtle Creek was organized as a mission in Kidd's Hall, Turtle Creek, in the spring of 1895. The organization was incorporated and the church edifice on Church St. was erected in 1900. Seven members constitute the list of charter members, two of them are still members of the church, namely, Mrs. Charlotte Emmanuel, and Mrs. John Hall. The other charter members were Mr. and Mrs. Frank Askin, Mr. and Mrs. Andrew Fyfe, Philip Jones, Mrs. William Hall, Mr. and Mrs. R. Williamson, Mr. and Mrs. G. E. Spamer, Miss Eva Price, Thomas Jones, Warren Rogers, Mr. and Mrs. William Cook. The present membership of the church is 245. The building now being occupied by the congregation was erected in 1914.
The following ministers have served the church:
Rev. P. J. Dickerson (1895-1896), Rev. John Page (1896), Rev. John Ray (1896-1897), Rev. D. C. White (1897-1899), Rev. W. B. Allen (1899-1901), Rev. D. T. Firor (1901-1904), Rev. F. B. Williams (1904-1907), Rev. Robert Gordon (1907-1908), Rev. Frank W. Crawford (1909-1910), Rev. F. B. Williams (1910-1912), Rev. A. C. McConnell (1913- 1915), Rev. Clyde W. Townsend (1916-1919), Rev. M. Neilson (1920-1923), Rev. A. E. Douglass (1923- 1927), Rev. George Buck (1927-1929), Rev. A. A. WainWright (1929-1931), Rev. Charles Embrey (1932-1934), Rev. H. G. Hoffman (1934 ).
| | | |
| --- | --- | --- |
| Home History History of the Churches of the Pittsburgh Baptist Association Contents | Share This Page Using: | |