History of the Churches of the Pittsburgh Baptist Association
by William Pankey
FIRST BAPTIST CHURCH WEST NEWTON, ORGANIZED 1885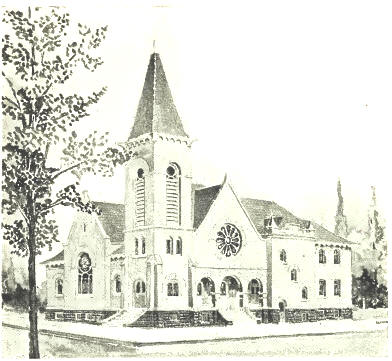 The First Baptist Church of West Newton grew out of a flourishing Sunday school conducted as early as 1878 in Dick's Bank, West Newton. J. E. Walter was superintendent of this Sunday school in 1883. Prior to 1880, a lot was purchased and a building was partially erected, but due to financial reverses of the members, it was never completed.
The Salem Baptist Church, organized in 1790, is the mother of the First Baptist Church of West Newton. On February 23, 1885, the Salem church voted to dismiss some of its members to form the church at West Newton, and also provided a lot and building for the new organization. Accordingly, the First Baptist Church, West Newton, was organized April 11, 1885. The following month the church voted sixteen to six to affiliate with the Pittsburgh Baptist Association. The six negative votes favored affiliation with the Monongahela Baptist Association.
Miss Posa Cochenour was the first candidate for baptism. J. M. Montgomery was probably the first clerk, and Nelson Weddle appears to have been the first treasurer. In 1896, several lots adjacent to the church were purchased, through the generosity of Nelson Weddle and Samuel Weimer. A parsonage was also erected the same year. The Mendon church was formed in 1898 by members of the West Newton church. The present church edifice was dedicated, July 2, 1905, the sermon being delivered by Rev. John H. Harris. In 1924 extensive repairs were made on the property. The fiftieth anniversary was celebrated June 16, 1935. The present membership is 287.
The following ministers have served the church:
Rev. John Bnrke (1885-1886), Rev. E. Calvin Weeks (1886-1888), Rev. A. J. King (1888-1890), Rev. J. A. Smith (1890-1893), Rev. L. M. Jaco (1894-1895), Rev. E. K. Bailey (1895-1901), Rev. A. M. Gregg (1901-1911), Rev. Allen W. Nettleman (1912), Rev. S. J. Cleeland (1913-1915), Rev. Chester C. Winter (1916-1919), Rev. Arthur C. Wright (1920-1923), Rev. Noah Fehl (1923-1936), Rev. E. R. Williams (1936 ).
| | | |
| --- | --- | --- |
| Home History History of the Churches of the Pittsburgh Baptist Association Contents | Share This Page Using: | |