History of the Churches of the Pittsburgh Baptist Association
by William Pankey
FIRST RUSSIAN BAPTIST CHURCH PITTSBURGH, ORGANIZED 1910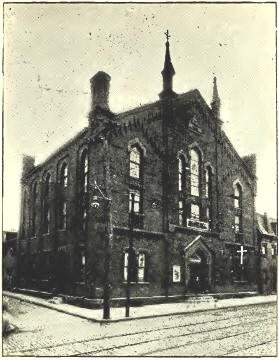 Missionary work among the Russian people of Pittsburgh was started by the Union Baptist Cliurch, South Side, Pittsburgli, in 1910, when twenty-four of them were organized as a branch of the Union church. Services were conducted at 2013 Fifth Avenue, in the heart of the Russian settlement. They called this place of worship "The Emanuel House." Later, services were conducted at 2123 Fifth Avenue, where Miss Elizabeth Mathews, of the Bethel Baptist Church, Carrick, assisted in organizing a Bible school.
The years following 1919 witnessed the scattering of the Russian people to other communities. Accordingly, the congregation moved to the South Side district, and in 1924 mission stations were established at Lyndora, Canonsburg, Albion, Smithfield, and Elm Grove, West Virginia. At the present time the mission church at Erie has thirty members, the church at Albion ten, the church at Meadowland ten, and the church at Canonsburg twenty members. These churches are actually under the watch-care of the pastor of the Pittsburgh Russian congregation and are visited periodically by him.
The Pittsburgh Russian church has an active Sunday school, a Young People's Society, World Wide Guild, Vacation Church School, and Children's World Crusade organization. Services are held in the building previously occupied by the Union Baptist Church, South Side, Pittsburgh. The present membership is fifty-five.
The following ministers have served the church:
Rev. Michael Levine (1910-1914), Rev. Paul Ambrosimofe (1914-1917), Rev. Paul Kolesnikoff (1918-1919), Rev. Alex Petroff (1920), Rev. P. J. Vince (1923-1926), Rev. J. Perozok (1926-1927), Rev. Alex Beliasov (1928- ).
| | | |
| --- | --- | --- |
| Home History History of the Churches of the Pittsburgh Baptist Association Contents | Share This Page Using: | |