History of the Churches of the Pittsburgh Baptist Association
by William Pankey
FIRST HUNGARIAN BAPTIST CHURCH McKEESPORT, ORGANIZED 1912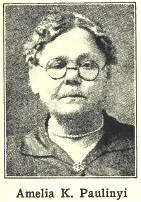 Amelia K. Paulinyi The Hungarian Baptist work in McKeesport was started by the Rev. and Mrs. Michael Dulity, who carried on missionary work in the homes of the people, conducted services on the street corners, and distributed Bibles and religious tracts. They had been baptized into the Baptist faith at the First Hungarian Baptist church, Homestead.
The second missionary to carry on this work was William Balla, who conducted public services in a rented store room. Soon the group had grown to nineteen. Accordingly, under the direction of the Rev. H. C. Gleiss, the church was officially organized, June 1, 1912.
Mrs. Amelia Paulinyi and Maria Meeries have served the church as missionaries. Three pastors have been ordained by the church. The congregation has carried on its work through an active Sunday school, women's societies, sewing-schools, summer schools, bands and fine choirs. Missionary work has also been done in Duquesne, Rankin and Irwin. The present membership is sixty.
The following ministers have served the church:
Rev. Louis Stumpf (1912-1913), Eev. Arthur Stumpf (1914-1918), Rev. Michael Biro (1918-1920), Rev. Stephen Bertalen (1925-1931), Rev. William Tresansky (1931-1932), Rev. E. L. Kautz (1932-1936), Rev. Stephan Revak (1939-).
| | | |
| --- | --- | --- |
| Home History History of the Churches of the Pittsburgh Baptist Association Contents | Share This Page Using: | |