History of the Churches of the Pittsburgh Baptist Association
by William Pankey
KNOXVILLE BAPTIST CHURCH PITTSBURGH, ORGANIZED 1895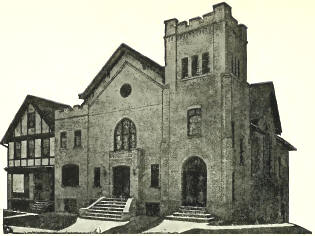 In 1895, forty-six members were dismissed by letter from the Union Baptist Church, Pittsburgh, to form the Maple Avenue Baptist Church, Allentown, Pittsburgh. This list included Rev. and Mrs. A. J. King, Jane Gue, Sophia Lloyd, Blanche Lloyd, James A. Griffith, Katie Griffith, Thomas McDowell, Emma McDowell, Mrs. E. Barclay, Anne Barclay, Mary Barclay, John Barclay, Kate Colley, Joseph Gue, George F. Easton, Sadie Easton, Nancy [92] Easton, Jennie Entriken, S. A. Entriken, Mrs. E. Wellington, Richard Wellington, Margaret Brown, Edith Brown, William Llewellyn, Sadie Davis, Mrs. E. Freed, Mollie Freed, Samuel Evey, Mrs. L. Evey, George Blakmore, Charles Bargesser, John Bargesser, Rena Huggins, O. B. Saul, Ada Simmons, John Simmons, Eliza J. Mitchell, Miss M. F. Jones, Aggie Evans, Sadie Kirk, John Channing, Mrs. O. B. Saul, Sadie Smith, Sarah Irwin and Dr. E. E. Riggs.
The Maple Avenue Baptist was organized September 27, 1895, with sixty-one members, and was admitted to the Pittsburgh and Allegheny Baptist Union the same year. The first church edifice was dedicated January 24, 1897. In 1909 the present building was erected on Orchard Avenue, Knoxville—at which time the name was changed to that of the Knoxville Baptist Church. The present membership is 256.
The following ministers have served the church:
Rev. A. J. King (1895-1905), Rev. T. J. Edwards (1905-1911), Rev. Frank K. Singiser (1911-1913), Rev. Walter J. Meade (1913-1917), Rev. L. J. Schoeppler (1917-1920), Rev. Frank W. Stanton (1920-1923), Rev. George F. McElven (1926), Rev. Harold D. Germer (1927-1930), Rev. L. L. Hutchinson (1930), Rev. William Schoeffel (1931-1933), Rev. James Allie Davidson (1934- ).
| | | |
| --- | --- | --- |
| Home History History of the Churches of the Pittsburgh Baptist Association Contents | Share This Page Using: | |