History of the Churches of the Pittsburgh Baptist Association
by William Pankey
LORENZ AVENUE BAPTIST CHURCH PITTSBURGH, ORGANIZED 1905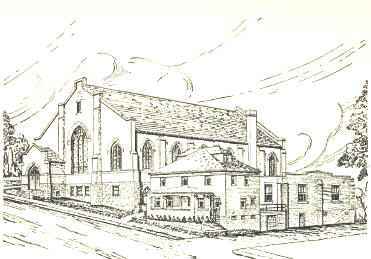 The Lorenz Avenue Baptist church of Pittsburgh had its inception in a cottage prayer meeting in the home of Deacon H. R. Fox and conducted by the Rev. L. C. Barnes, pastor of the Fourth Avenue Baptist Church, Pittsburgh, January 8, 1897. Two Aveeks later, a Sunday school was organized with Frank D. Settle as the superintendent. The Odd Fellows Hall on Steuben Street was the first meeting place of the Sunday school. Sunday afternoon worship and preaching services were likewise regularly conducted.
In 1898 the Pittsburgh and Allegheny Baptist Union loaned sufficient funds to erect a chapel on the corner of Lorenz Avenue and Steuben Street. The following July, the Sunday school moved into the new building. The adjoining lot of ground was donated by George K. Stevenson.
Rev. W. H. Swallow, assistant pastor of the Fourth Avenue Baptist Church, served the Lorenz Avenue branch as its first leader. In 1900 the Rev. Clarence S. Spaulding took charge of the congregation, but his untimely death terminated his pastorate the following year. Rev. J. V. Stratton served as interim pastor for several months prior to the calling of the Rev. R. B. Davidson November 24, 1901, who served for only two years. In 1903 the Rev. L. P. Valentine, of La Crosse, Wisconsin, became pastor. Under his leadership the entire indebtedness was cleared off.
On January 23, 1905, the congregation was recognized officially as an independent church by action of the Fourth Avenue Baptist church. Persons participating in the recognition services held March 9, 1905, included Rev. A. A. Nellis, Rev. W. G. Partridge, Rev. A. R. Stark, Rev. Henry C. Gleiss. The present church edifice was dedicated September 20, 1908. The membership of the church is now 209.
The following ministers have served the church since it became an independent organization:
Rev. L. P. Valentine (1903-1908), Eev. Daniel L. Scultz (1909-1910), Rev. R. B. Dwyer (1910-1913), Rev. R. E. Williams (1913-1919), Rev. Leonard W. Ramsey (1920-1927), Rev. Ira Freeman (1928-1933), Rev. John Samuels (1933-1935), Rev. C. A. Anderson (1935- ).
| | | |
| --- | --- | --- |
| Home History History of the Churches of the Pittsburgh Baptist Association Contents | Share This Page Using: | |