History of the Churches of the Pittsburgh Baptist Association
by William Pankey
MOUNT LEBANON BAPTIST CHURCH DORMONT, ORGANIZED 1915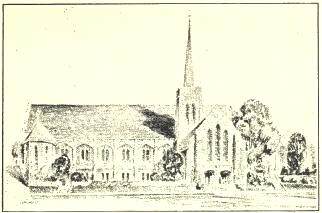 A series of cottage prayer meetings conducted by the Rev. John Churney in 1907 marks the beginning of Baptist work in the Mount Lebanon hills. The first attempts to organize a Sunday school met with failure. But on May 8, 1908, twenty-two persons assembled in the home of W. H. Jenkins to confer with the Rev, H. C. Gleiss, executive secretary of the Pittsburgh and Allegheny Baptist Union. At this meeting arrangements were made to hold services in the Mount Lebanon Country Club on Sunday afternoons. It was also agreed that this work should be recognized as a mission of the Fourth Avenue Baptist Church, Pittsburgh. Such an arrangement was consummated July 5, 1908. Thirty persons took communion February 14, 1909.
Upon the removal of the Fourth Avenue Baptist Church to the Oakland district, it was decided to provide a suitable building for its mission in Dormont. Accordingly, ground was broken, June 5, 1911, for the new edifice on Alabama Avenue. The dedicatory services took place May 12, 1912.
At a congregational meeting held March 28, 1915, a resolution was adopted requesting the First Baptist Church (formerly the Fourth Avenue), to take whatever action was necessary in establishing the Mount Lebanon church as an independent organization. Accordingly, on May 26, 1915, the First Baptist Church of Pittsburgh dismissed 162 members to form an independent Baptist church in Dormont. In pursuance of this action, the Mount Lebanon Baptist Church, Dormont, was organized May 27, 1915, with 168 charter members. The second church edifice was dedicated in 1930. The present membership is 1,105.
The following ministers have served the church:
Rev. Charles H. Schieck (1908-1910), Rev. Walter M. Corll (1911-1917), Rev. Harry E. Owings (1917-1920), Rev. A. F. Purkiss (1921-1923), Rev. R. G. Pierson (1923-1927), Rev. Edward Bleakney (1928-1937), and Rev. Albert H. Gage (1937- ).
| | | |
| --- | --- | --- |
| Home History History of the Churches of the Pittsburgh Baptist Association Contents | Share This Page Using: | |