History of the Churches of the Pittsburgh Baptist Association
by William Pankey
MOUNT WASHINGTON BAPTIST CHURCH PITTSBURGH, ORGANIZED 1874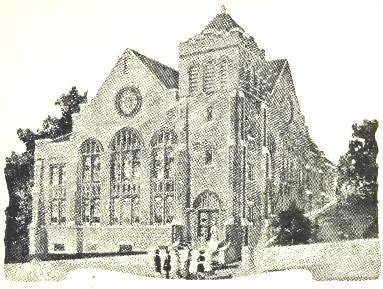 Under the leadership of William T. Brown, a community Sunday school was organized on Mount Washington in 1871. Three years later, May 19, 1874, the Mount Washington Baptist Church was organized, with nineteen constituent members. The following month the church was admitted to membership in the Pittsburgh Baptist Association with twenty-nine members. Services were conducted in the public school building in 1874, and in the basement of the Grace Episcopal Church in 1875.
In 1875 a lot was purchased on Sycamore Street, and a one-story red brick building was erected. The interest rate on the mortgage was ten percent per annum. The present church edifice was dedicated March 21, 1909. Rev. S. G. Neil, Philadelphia, preached the dedicatory sermon. The mortgage was burned in 1919. The parsonage was erected in 1925.
Among the members who have entered Christian service from the church are Rev. and Mrs. Newberry B. Cox, Rev. Charles Mills, Miss Agnes Houston and Miss Mary Vitchestain. The present membership is four hundred.
The following ministers have served the church:
Rev. G. J. Brensinger (1871), Rev. William H. McKinney (1875-1877), Rev. Malcolm C. Blaine (1878-1880), Rev. David Macrory (1880-1887), Rev. George T. Street (1888-1898), Rev. P. F. DeLancy (1898-1902), Rev. J. C. Wilkinson (1902), Rev. William R. Warren (1902-1904), Rev. Emerson L. Swift (1904-1908), Rev. George T. Street (1908-1911), Rev. G. K. O'Donnell (1911-1914), Rev. W. I. Coburn (1915-1916), Rev. M. R. Japhet (1917-1919), Rev. Charles Embrey (1920-1925), Rev. H. E. Shade (1925), Rev. Samuel R. Barrett (1927), Rev. Richard G. Stacy (1927-1936), Rev. P. H. Lynch (1936 ).
| | | |
| --- | --- | --- |
| Home History History of the Churches of the Pittsburgh Baptist Association Contents | Share This Page Using: | |