History of the Churches of the Pittsburgh Baptist Association
by William Pankey
PARK BAPTIST CHURCH, McKEESPORT, ORGANIZED 1893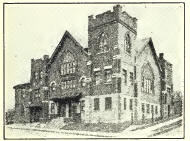 On May 6, 1887, the First Baptist Church of McKeesport organized a mission Sunday school in the public school building on Wood Street, McKeesport. Within a year this Sunday school increased in membership so that it was necessary to purchase a building. It was in this building on Fifth Avenue that the Fifth Avenue Baptist Church was organized, January 26, 1893,—with 117 charter members, who had been dismissed from the First Baptist Church by letter. In 1896 the church building was torn down in order that a larger one might be erected on the same site. This new edifice was dedicated on October 22, 1899. The present church edifice, located on the corner of Park Street and Versailles Avenue, was dedicated January 22, 1922. At that time the name of the church was changed from "The Fifth Avenue Baptist Church" to "The Park Baptist Church of McKeesport." The present membership is 224.
The following ministers have served the church:
Rev. William M. Ryan (1893-1896), Rev. W. L. Anderson (1896-1897), Rev. John T. Davis (1897- 1905), Rev. George N. Spencer (1905-1908), Rev. D. K. Wood (1908-1910), Rev. J. S. Neisser (1910- 1918), Rev. J. T. Davis (1918-1919), Rev. William R. Hill (1919-1924), Rev. James C. Hill (1924-1927), Rev. John E. Fosnight (1927-1932), Rev. C. E. Downing (1932-1933), and Rev. H. H. Newell (1934 ).
| | | |
| --- | --- | --- |
| Home History History of the Churches of the Pittsburgh Baptist Association Contents | Share This Page Using: | |