History of the Churches of the Pittsburgh Baptist Association
by William Pankey
SANDUSKY STREET BAPTIST CHURCH, PITTSBURGH, ORGANIZED 1835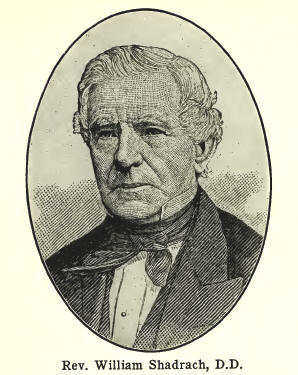 The Sandusky Street Baptist Church, Pittsburgh, originated in a series of cottage prayer-meetings. The organization took place March 7, 1835, in the edifice of the Methodist Protestant Church, Union Avenue, and with fifteen constituent members, who had been dismissed by letter from the First Baptist Church. The original corporate name of the organization was "The First Baptist Church of Allegheny," and it was located on Robinson Street. The first edifice was a wooden chapel, erected in 1835. John Wright was the first deacon, the first clerk, the first treasurer, the first chorister and the first Sunday school superintendent!
The second church edifice was erected in 1844, and was located on Sandusky Street. By 1865 all building debts had been paid. In 1857 the church withdrew from the Monongahela Baptist Association and became a member of the Pittsburgh Association. In 1867 the congregation helped organize the Nixon Street Baptist Church. In 1871, another mission Sunday school was organized on Howard Street. The third and present church edifice was dedicated, November 19, 1893. In 1907 the charter name of the church was changed to "The Sandusky Street Baptist Church."
Ministers who have gone out from the church include, Rev. J. Smith Gillespie, Rev. B. F. Woodburn, Rev. M. B. Sloan, Rev. J. A. Snodgrass, Rev. Aaron Wilson, Rev. T. H. Chapman and Rev. Henry Gellart. Others who have gone into Christian service include, Miss Zillah A. Bunn and Miss Agnes Whitehead.
The following ministers have served the church:
Rev. William Shadrach (1835-1838), Rev. John E. Thomas (1838-1842), Rev. N. G. Collins (1843-1845), Rev. H. Silliman (1845-1846), Rev. Joseph Walker (1847-1849), Rev. Joseph B. Breed (1849-1850), Rev. J. R. Downer (1850-1853), Rev. T. R. Taylor (1853-1857), Rev. Isaac Sawyer (1858-1859), Rev. A. K. Bell (1859-1870), Rev. B. F. Woodburn (1870-1905), Rev. A. J. Bonsall (1906-1925), Rev. Joseph R. Allen (1925-1930), Rev. Charles S. Dayton (1930-1937), Rev. Edwin L. Kautz (1937 ).
The present membership is 407.
The assistant pastors include Rev. Joseph N. Williams (1900-1901), Rev. William W. Barker (1902- 1903), Rev. A. J. Bonsall (1904-1906), Rev. Charles E. Stanton (1921-1925).
| | | |
| --- | --- | --- |
| Home History History of the Churches of the Pittsburgh Baptist Association Contents | Share This Page Using: | |