History of the Churches of the Pittsburgh Baptist Association
by William Pankey
FIRST BAPTIST CHURCH, SHARPSBURG, ORGANIZED 1843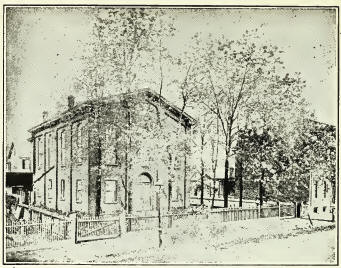 This church was organized as a mission of the First Pittsburgh Church, September 30, 1843. Shortly thereafter a building was erected on Walnut Street, Etna. It took only six weeks to construct this modest building. In the meantime, Rev. S. Severance and Rev. T. White carried on a great deal of missionary work in the homes of the people.
The present name of the church was adopted in 1859, and the following year the present building was erected in Sharpsburg. The members of the congregation assisted in the digging of the foundation. John Williams was the first candidate for baptism. The first delegate to the Pittsburgh Association was William Planet. Rev. S. White gave pastoral oversight to the congregation from time to time. Charles Clowes served as clerk for over forty years.
The following ministers have served the church: Rev. J. T. Lewis, Rev. Samuel Drummond, Rev. Aleck McArthur, Rev. D. E. Richards, Rev. J. T. Enterline, Rev. Henry Madtes, Rev. T. J. Edwards, Rev. B. F. Fisher, Rev. Stewart M. Smith.
The following persons have served as Sunday school superintendents:
C. C. Smith, Edward Gibson, Waldo Hunter, Samuel Seeman, Richard Arnold, William Verner, W. C. Smith. Those who have served the church as clerk include Joseph Ingram, Benjamin Jeremiah, Samuel Dawkins, W. J. Davis, B. J. Crowther, Arthur Weston, Andrew Yerkins, J. T. Austen, M. P. Jones. Those who have served as trustees include Thomas Shedden, Joseph Arnold, R. H. Camp, W. S. Dinsmore, Joseph Gilbert, Harlan Hunter, Campbell Stanton, D. D. Davis, Thomas Brankley, Frank Herman.
| | | |
| --- | --- | --- |
| Home History History of the Churches of the Pittsburgh Baptist Association Contents | Share This Page Using: | |