History of the Churches of the Pittsburgh Baptist Association
by William Pankey
FIRST SLOVAK BAPTIST CHURCH CREIGHTON, ORGANIZED 1905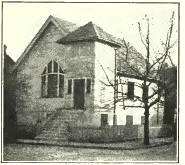 In the years following 1900, many Slovaks left their homeland and came to America. Some of them settled in western Pennsylvania. Upon their arrival in America they found living conditions unpleasant. No provision was made for their religious and social needs, except through home mission agencies. The Pittsburgh Baptist Association was quick to sense this need and opportunity, and accordingly, the Rev. Matthias Steucek, celebrated missionary pastor in Czechoslovakia (then Austria-Hungary), was invited by the Pittsburgh Baptist Association to take charge of the work at Creighton.
Arriving in America May 17, 1903, the Rev. Matthias Steucek immediately took charge of the work at Creighton. The first services were held in a rented hall. In 1905, a church building was purchased and the church was organized. This was the first Slovak Baptist church in America, and became the mother of many others in various sections of the country.
For a while it was difficult to obtain religious literature printed in the Slovak language. This difficulty was removed when the Rev. Mr. Steucek purchased a printing press and published and distributed many thousands of tracts. He also published the first Slovak Baptist paper in America, The Friend of Peace. The membership of the church has remained small due largely to changing economic conditions, but its influence has extended far.
The following ministers have served the church:
Rev. Matthias Steucek, Rev. A. Meeriess and Rev. J. Sturman. Mrs. John Kana, Yonkers, New York, was formerly a member of the Creighton church, and was the first Slovak woman missionary in the United States.
| | | |
| --- | --- | --- |
| Home History History of the Churches of the Pittsburgh Baptist Association Contents | Share This Page Using: | |