History of the Churches of the Pittsburgh Baptist Association
by William Pankey
TEMPLE BAPTIST CHURCH, PITTSBURGH, ORGANIZED 1862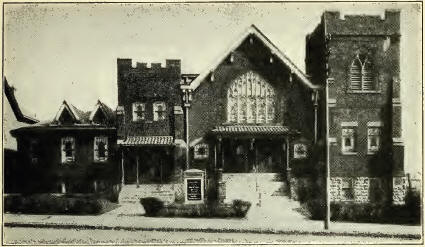 In 1852, seven German Baptists arrived in Pittsburgh from Cassel, Germany. Settling in the south side district, they prevailed upon the Rev. S. Sala to preach to them for a period of one year. By 1858, the group had increased in numbers, but they then united with the Union Baptist Church, considering themselves as the German department of that church. On December 25, 1862, this group organized themselves into the German Baptist Church. The first house of worship was dedicated May 14, 1865. The parsonage was erected in 1871. The church was enlarged in 1872. The second edifice was dedicated in 1887.
Mission work was carried on in Jeannette, New Kensington, Knoxville, Carrick and Allegheny. Work was also done among the Hungarians and Slavs. In 1904 a Sunday school was started in the home of Louis Staude, in Carrick. In 1906, a chapel was erected on Phillips Avenue, Carrick. In 1907 the church dismissed, by letter, a hundred members who were to organize a Hungarian-Slovak Baptist church. In 1916 the congregation sold its church building on Nineteenth Street, South Side, and on February 5, 1919, dedicated its new house of worship, Brownsville Road and Onyx Avenue, Mount Oliver. In 1918 the name was changed from "First German Baptist Church" to "Temple Baptist Church." The present membership is 464.
The following ministers have served the church:
Rev. Reinhard Otto (1866-1869), Rev. E. J. Deckmann (1870-1872), Rev. F.W. Schælicke (1873-1874), Rev. William Paul (1875-1876), Rev. Heinrich Kose (1876-1878), Rev. L. G. Hilmer (1879-1880), Rev. E. J. Deckmann (1881-1887), Rev. L. H. Donner (1887-1897), Rev. H. C. Gleiss (1889- 1906), Rev. Samuel Blum (1907-1909), Rev. Henry Schulz (1909-1913), Rev. A. P. Mihm (1914-1921), Rev. A. A. Schade (1922-1928), Rev. O. E. Krueger (1929-1935), Rev. Theodore Koester (1935-1936), Rev. Louis B. Holzer (1937 ).
| | | |
| --- | --- | --- |
| Home History History of the Churches of the Pittsburgh Baptist Association Contents | Share This Page Using: | |