History of the Churches of the Pittsburgh Baptist Association
by William Pankey
UNION BAPTIST CHURCH, ARNOLD, ORGANIZED 1894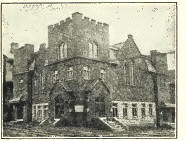 In the year 1894, the German Baptist Mission was organized in Arnold, by Otto Sarge. Prior to the building of the first chapel, in 1899, the services were held at the Windsor Hotel. Bible instruction was provided for the children of German immigrants.
The Temple Baptist Church of Pittsburgh gave general oversight to the work of the mission, until 1919, when it was organized as an independent church. In 1925 the present church edifice was erected, on the corner of Kenneth Avenue and McCandless Street—at a cost of $45,000. In recent years all services have been conducted in the English language. The present membership is 154.
The following pastors have served the church:
Rev. William Swyter, Rev. E. W. Braun, Rev. William A. Schoen (1918-1921), Rev. C. E. Cramer (1921-1927), Rev. Edward Stevener (1928-1932), Rev. David Zimmerman (1933-1936), Rev. C. E. Cramer (1937 ).
| | | |
| --- | --- | --- |
| Home History History of the Churches of the Pittsburgh Baptist Association Contents | Share This Page Using: | |