History of the Churches of the Pittsburgh Baptist Association
by William Pankey
WILKINSBURG BAPTIST CHURCH, ORGANIZED 1892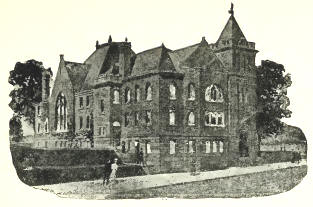 The Wilkinsburg Baptist Church was organized May 22, 1892, in Ralston Hall, with nine charter members: Mrs. M. E. Thompson, Anna Thompson, Blanche Thompson, Mr. and Mrs. William Maxon, Mr. and Mrs. William Harris, Mrs. Mary Marshall and T. J. McClernan. Within six months the membership had grown to twenty-two. The church was admitted to the Pittsburgh Baptist Association, October 27, 1892.
In 1892 the congregation purchased the Methodist church building on Wallace Avenue, and after considerable remodeling moved into it, September 30, 1893. In 1897 a mission was started in Homewood by the Wilkinsburg church. The present church edifice was dedicated, January 13, 1907. During the period of the construction of the new church the congregation met in a hall over the First National Bank. In 1915 the pipe organ was installed in the sanctuary. The present membership is 715.
The following ministers have served the church:
Rev. J. M. Ray (1892-1896), Rev. J. M. Moore (1897-1904), Rev. George C. Horter (1904-1907), Rev. B. F. G. Magee (1908-1914), Rev. J. A. Monk (1915-1920), Rev. Floyd Carr (1920-1923), Rev. Charles Rust (1924-1925), Rev. Oliver Sisson (1925-1931), Rev. Orva Lee Ice (1931 ).
| | | |
| --- | --- | --- |
| Home History History of the Churches of the Pittsburgh Baptist Association Contents | Share This Page Using: | |