William Carey, by Basil Miller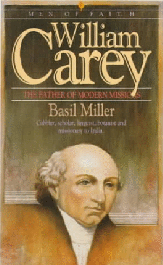 The amazing story of a simple English cobbler who became a self-taught scholar of Hebrew and Greek, a botanist, a minister, and finally a pioneer missionary to India! His life became the model for modern missions.
Developed from letters and journals of William Carey, this challenging biography brings an understanding of the almost unbelievable sacrifices he made. The long and painfully arduous voyage from England, the primitiveness and grinding poverty of eighteenth-century India, the death of his wife and other family members did not detour Carey from God's call in his life.
Compelling missionary drama of the man whose lifetime of service became the standard for today.
Available at Amazon.com