Faithful Witness, The Life and Mission of William Carey,
by Timothy George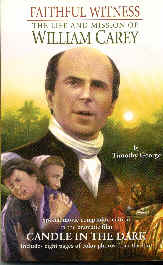 This edition is prepared not only as a stand alone book but also as a central component of a curriculum package to accompany the dramatic film Candle in the Dark. As you read this book you will understand why those of us involved in the preparation of the Carey story have an overwhelming sense of gratitude for the opportunity to spend much time getting to know William Carey. Indian scholar and theologian Dr. Ramesh Richards told me that he does not know of another life since the Apostle Paul lived so intentionally, a life demonstrating that when obedience to the call of God and service to Christ is paramount, then the cost is irrelevant. Like the first generations of Christians, Carey was abysmally low in credentials, status, and resources, but he, like they, plodded on in obscurity to affect countless lives, alter social consciousness and change history. Your will find he speaks most pertinently to us today a century and a half after his death.
Ken Curtis
Executive Producer, Candel in the Dark
President, Christian History Institute
Availabe from Christian Videos
William Carey's Serampore mission began two hundred years ago. So powerful was this example and influence around the world that Carey is hailed as the "Father of Modern Protestant Missions." The Serampore Community's task seemed impossible, yet they overcame many obstacles to make a lasting impact for God and brought the transforming power of the Gospel to multitudes of hungry hearts. Their experience provides valuable insight for any today concerned to see the message of Christ reach the world.

This kit provides all you need for a series of studies that will be both heart-touching and mind-stretching. It includes the full 97-minute dramatic film Candle in the Dark. It also includes the film in four parts with introduction and commentary by Dr. Timothy George and Dr. Ramesh Richard, special movie edition of Timothy George's 265-page book, Faithful Witness, acclaimed Carey biography, sheet music and video of title song, complete, flexible leader's guide for up to 8 sessions, original source documents related to Carey's life and mission and additional reading material.