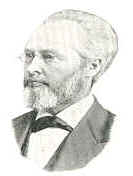 One of the four original professors of Southern Baptist Theological Seminary and the first president of the Southern Baptist Sunday School Board.
"The doctrine which we hold is commonly styled Plenary Inspiration or Full Inspiration. It is that the Bible as a whole is the Word of God, so that in every part of Scripture there is both infallible truth and Divine authority." (The Bible Doctrine of Inspiration, pp. 59-60).
Manly grew up in Charleston, South Carolina, where his father was pastor of the First Baptist Church. By the time he was 14, his father had become president of the University of Alabama; Manly matriculated there, graduating in 1844. He then briefly attended the Newton Theological Institution in Newton Centre, Massachusetts; he moved to the southern United States in 1845, completing his studies there.

He was ordained a Baptist minister in 1848 at Tuscaloosa, Alabama, and over the next 11 years, served in Alabama, Mississippi, and Virginia. In 1850, he helped establish the Sunday School Board of the Southern Baptist Convention. That same year, he was called to the First Baptist Church in Richmond, Virginia, where he pastored four years; he then helped found and became president of the Richmond Female Institute. In 1859, he wrote the "Abstract of Principles" (articles of faith) for the nascent Southern Baptist Theological Seminary, of which he was one of the four founding faculty members. He briefly taught Old Testament and Hebrew at the seminary, until it closed during the American civil war. In 1871, he accepted the position of president of Georgetown College, Georgetown, Kentucky. In 1879, he returned to the faculty of the Southern Baptist Theological Seminary when it reopened in Louisville, Kentucky. He served there as president for a number of years. Manly wrote nearly 40 hymns, a number of which appeared in The Baptist Psalmody, 1850, which he edited with his father.

Last Updated:
CONTACT FORM |

The Reformed Reader uses only safe Javascripts
©1999-2009, The Reformed Reader, All Rights Reserved

Hymns by Basil Manly, Jr.:
Before a Pool the Sufferer Lay
God of the Seas, Whose Ruling Voice
God with Us, O Glorious Name
Holy, Holy, Holy, Lord God of Hosts in Heaven Adored
In Doubt?s Dim Twilight Here I Stray
Jesus, My Lord, I Own Thee God
Our God Invites the Wanderers Home
There Is a Light Which Shines from Heaven
The Young Deserter
An impenitent sinner was recently brought into the near prospect of eternity, and the terrors of God's wrath fell upon him. His friends sent for a minister to come and counsel and pray with him; but though he sought earnestly to lead him to Jesus, it seemed of no avail. Every exhortation was met by the mournful plaint, "it is too late?too late!"

Halting on This Side of Jordan, or Shall Your Brethren Go to War, and Shall Ye Sit Here?
Incessant vigilance is the price of success in human warfare. It is even more so in the spiritual, as our enemies are more watchful, eager and powerful. There must be constant aggression on the army of Satan. Every birth adds one to the ranks of evil: the hosts of God are losing by every death, and can only be replenished by conversions, by winning over our opponents.

The Bible Doctrine of Inspiration
(Founders Review by Timothy George)
Significantly, Manly did not call his book the "Baptist Doctrine of Inspiration." It was the "Bible Doctrine" he sought to expound. Manly was loyal to his denomination, but on this issue he realized that Baptists stood shoulder to shoulder with all evangelical, Bible-believing Christians as champions of the Reformation principle of sola Scriptura, "Scripture alone." For this reason his book appealed not only to Baptist believers in America but to earnest seekers throughout the Christian world.