God's Will, Man's Will and Free Will

by Ernest C. Reisinger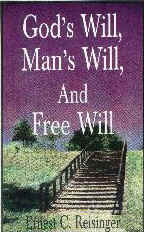 God's Will
Man's Will
and
Free Will
Ernest C. Reisinger
Acknowledgements
Much thanks to Carol Brandt for corrections, suggestions, and encouragements.
To the wife of my youth and Barb Reisinger for all of their computer-work.
Author's Note
Anyone is at liberty to use material from this book with or without credit. In preparing this book the writer has received help from many sources, some acknowledged and many unacknowledged. He believes the material herein set forth to be a true statement of Scripture teaching, and his desire is to further, not restrict, its use.
Contents